ABOUT BASOLO AUTO BODY & PAINT INC.
Basolo Auto Body & Paint Inc. is family-owned and operated in Missoula Montana. Since our company opened in 2001 we've treated every customer like they were a part of our family. Other companies may offer similar services, but our services are the best and come with a personal touch.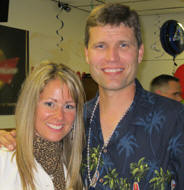 Shawn & Susan Basolo
Born and raised in Missoula Montana. Shawn has always had a passion for cars. He has been repairing cars since the early 90's and looks forward to it everyday.